Well this is IT! The ten days the tourist can't wait for and USUALLY the week and a half the locals plan their vacations around. Yup... in Cowtown the only thing that beats The Calgary Stampede is gettin' the hell outta Dodge while its happening!
The Greatest Outdoor Show on Earth kicks off this morning with the annual Stampede parade, third is size and stature to only the Rose Bowl and Macys Thanksgiving day events; to give you an idea just how BIG this hoe-down is to the city its an "unwritten rule" that employers give their employees this morning off (paid of course) to attend....it shuts down most of the downtown to traffic anyway so many of them couldnt get to their jobs if they tried! Even so a fair amount of those employees trade their am offering to the pm... all the better to beat the rush to the one of many "Saloons" that pop up during this time.

Ive BEEN to the Golden Garter..... I've DONE the Golden Garter........
I just cant REMEMBER the Golden Garter.
That aside I have to admit I still feel some pride well up when I talk about our little "rodayo"... It IS the largest Midway and the highest paying RODEO around, with some events @ the Grandstand handing out paycheques as high as $100,000.00 and while some may not consider events where the animals do most of the work "sports", highlights still make the reel on all the Sports Networks in the GWN (ok so there are only two of them).
I also admit its been YEARS since I've actually gone down to the grounds. I'm a born and bred Calgarian and as much fun as it is it kinda falls under the "been there, done that, killed a lot of brain cells" catagory. You see while the tourists come for the Midway, the Grandstand Show and the Mighty Chuckwagon Races Stampede time to a lot of locals means one thing and one thing only.... to borrow a line from the movie "So I married an axe murderer".... LETS GET PISSED!!! Those SALOONS I mentioned are everywhere and its not uncommon for the wait to get into them to be over 2 hours long! The Stampede regularily draws over 1,000,000 visitors a year and I remember(?) back when I used to frequent these establishments it seemed like every damn one of those people were in the line ahead of me! And I HAD TO PEE!
But the smell of the Tom Thumb doughnuts is strong......
Course Stampede '07 will be a little different; over the past few years the Association has decided that the "Greatest Outdoor Show on Earth" should have a charitable aspect to it and this year, along with Wrangler Jeans and the Canadian Breast Cancer Foundation, have launched the "Tough Enuff to wear PINK" campaign; 30,000 Pink cowboy shirts will be distributed amongst the participants/employees and all proceeds from tonights "Sneak A Peek" will be donated directly to the Cancer Foundation. That, along with Diana Kralls $1000.00 a person private concert held last night and corporate donations from around the city have Stampede officials believing they will have no problem matching this years attendance with dollar bills.
Last years attendance?
1,262,518.
GO PINK!!
Over the next ten days I'll keep ya up to speed on the happenings in Cowtown but if youd like a little more information you can check it out yourself by clickin' on the below.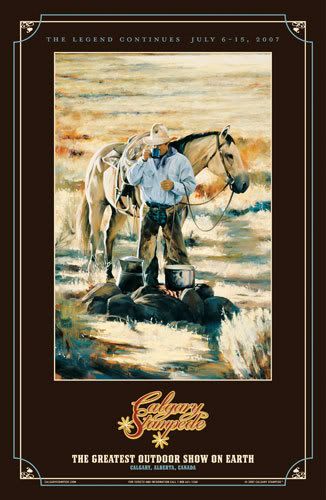 Ya'll have a GREAT WEEKEND...
Ya hear?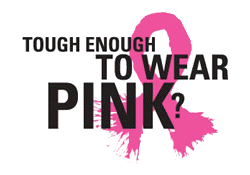 Thanks Miss kitty!
15 Pick 'em up!.
You have a great time! wanna hear all about it too!

so you were in pink right? And still out having a grand time until now? :D
Posted by Holly:
Well, my friend, the ten-day party has started. People were yelling in the streets until well after 2 this morning. I was
not
amused... Guess I'll be digging out the ol' earplugs and using them for the next ten days, eh?

Let the good times (& the pink clad cowboys) begin! YAHOO! Looking forward to reading the highlights!
Hope you're having a GREAT week-end


Posted by J:
WOW...what an awesome event!! Have fun Wil...and TRY not to drink too many of the wobbly pops!

;-)

Have a great weekend sweetie!

I'm sure you'll have a great time - and here's hoping you'll remember it!
hi u w coolest

. we had a ton of fun being pink today

. we hope you go see a ton of music and have a happy cowboy friday




I remember seeing a peice on the Stampede on a travel show that PBS does. Looks like alot of fun, though I guess that's easy to sy not living in the same city

I hope you survive the tourist and have a nice time--saloon related or otherwise.
I understand the tourist thing (we have a lot of them here, as you might know ;-)) but hey, we are not there, and we wanna know!
Thanks for keeping us updated!
Posted by Holly:
Oh, and regarding
this discussion
, yep. The sooner, the better.

Posted by Holly:
YOU, my friend? YOU got too much sun? But how is that possible?

You're the one who's always telling everyone else to be careful about that...


Okay, okay, I'm just teasing you...

Seriously, I hope you'll be okay; sunstroke is nasty business, Wil. I've had it more than once - twice, while I was pregnant...
Yep, ignoring 'em drives 'em crazy, that's for sure. Only problem is with this one, that might not be a good thing...
Have a great weekend, darlin'. Looking forward to reading the Stampede highlights.

It sounds so fun! i can not imagine that the "been there done that" feeling for such a fun place. Wil.... please experience it again and again and again and then tell us all about it. Except this time you should stay away from the Golden Garter so that you will remember it. ;)
Have fun, take pictures and don't forget to wear PINK!!!